Tree Trimming and Pruning
Whether you're a homeowner or a business owner, landscaping is important to you. Landscape maintenance keeps your plants healthy and makes your property look great! To that end, you may be considering hiring a tree trimming and pruning service. But what is tree trimming? How does it differ from tree pruning? And which service does your property need?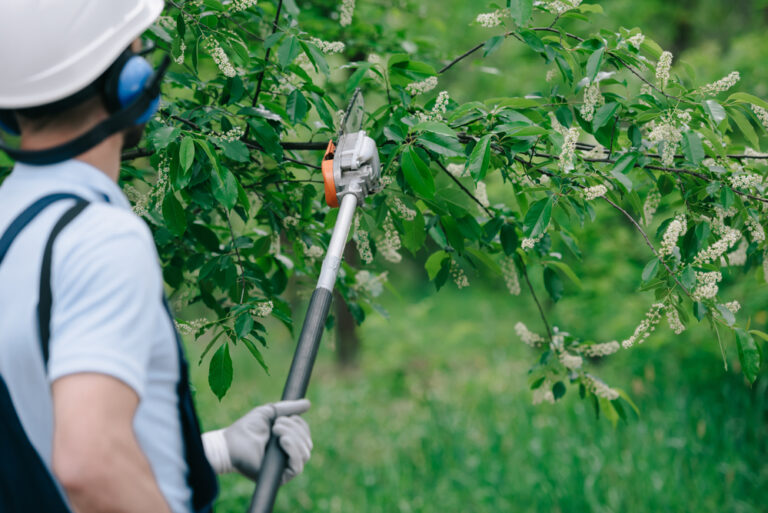 Tree trimming is mostly about looks. Do you want your trees to have a particular shape? Or do you just want them to look a little less wild? Then tree trimming is the service you need. A hedge trimmer is usually used to remove unwanted branches.
Uneven growth can cause trees to look lopsided or scraggly. Plus, overgrowth can be unhealthy for trees. It means that some branches don't get the nutrients they need. So parts of your tree will begin to look malnourished. And some branches might be hazardous to you or your property if they fall. Regular tree trimming can prevent all of these issues.
How often should you get your trees trimmed? Tree trimming is done as needed, which usually means twice a year.
What is tree pruning? This landscaping technique helps a tree live a longer and healthier life. How does it do that? Tree pruning involves removing loose, dead, or diseased branches, or any branches that interfere with growth. Hand shears and lopping shears are used for this task. So how will your trees benefit from tree pruning?
It'll protect them from pests.
Tree pruning helps protect trees from diseases.
It promotes healthy growth.
Pruning is usually done once a year. Flowering trees are normally pruned right after their blooming cycle.
Have you ever had a tree trimming service recommend that you top, hat-rack, or round over your tree? All of these terms refer to the dangerous practice of tree topping. Why should you avoid tree topping?
Tree topping circumvents the natural healing process of the tree, allowing decay and disease to freely enter the cut.
It removes much of the canopy, limiting the amount of water a tree can release and energy it can produce. And that has a negative impact on the structural integrity of the tree.
Watersprouts will likely grow beneath the cut. These shoots grow excessively fast, increasing regular maintenance costs.
Tree Trimming and Pruning - DIY or Hire a Professional?
If you're a homeowner or business owner, you might be considering doing it yourself. But there are hazards to tree trimming and pruning. These services often require the use of a ladder. And sometimes it puts you dangerously close to power lines. So we recommend hiring a professional who's trained to perform these services safely and properly.
Every branch that's removed from a tree affects its health and growth. And every tree has different needs. So only someone familiar with tree biology and tree health should perform pruning and trimming services. A professional arborist is trained to evaluate the health of a tree and to determine what branches need to be removed.
That's where we come in! Mike's Tree Service provides trimming and pruning services that will promote the health of your trees and make your landscaping look great! Do you need an arborist? Give us a call! We're happy to help.
Does your tree need more than a trim? We also provide dangerous high-risk tree removal services.