Dangerous High-Risk Tree Removal
Do you have a tree that needs to be removed on your property? Is it a high-risk or hazardous tree? The best way to answer those questions is to get a qualified arborist to perform a tree risk assessment.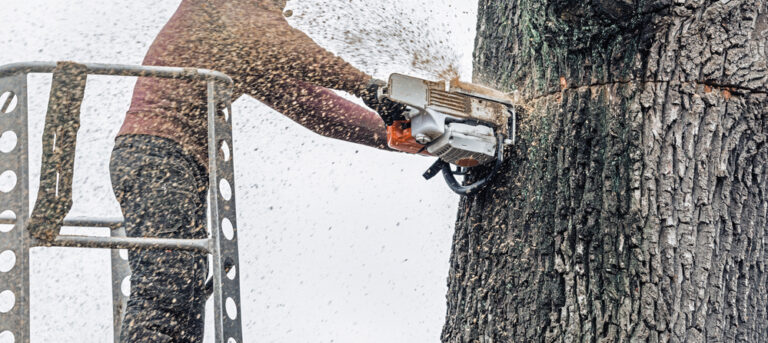 What Qualifies as High-Risk Tree Removal?
A hazardous tree requires removal or risk-reducing action to be taken immediately. What does an arborist consider when determining the risk level of a tree?
Is there decay or some other structural defect that makes this tree likely to fall?
If this tree falls, what potential damage could it cause to people or property?
You might have trees on your property that are growing too close to power lines. Or maybe the branches of a tree are leaning on your roof or gutters. Tree roots may be disrupting pipes or foundations. So how can you minimize the risks?
There are several possible options when it comes to a high-risk tree that a professional arborist might suggest.
Remove potential targets. If the tree is at risk of falling on a picnic table, landscape feature, car, or another movable item, the simplest solution may be to move the potential target out of range.
Provide tree maintenance. Regular pruning can keep a tree healthy, minimizing the fall risk.
Support the tree with braces and cables to increase stability.
Remove the tree. If the other options are not possible or sufficient, it's best to remove the tree altogether.
We Provide Tree Evaluation and High-Risk Removal Services
Call Mike's Tree Removal Service! Our licensed arborists and qualified technicians are here to help. We can evaluate the trees on your property and determine if any of them are hazardous. And we provide high-risk tree removal services so you don't have to worry about danger to your family or property.
Has your property been damaged by a storm? We also provide storm damage restoration services.