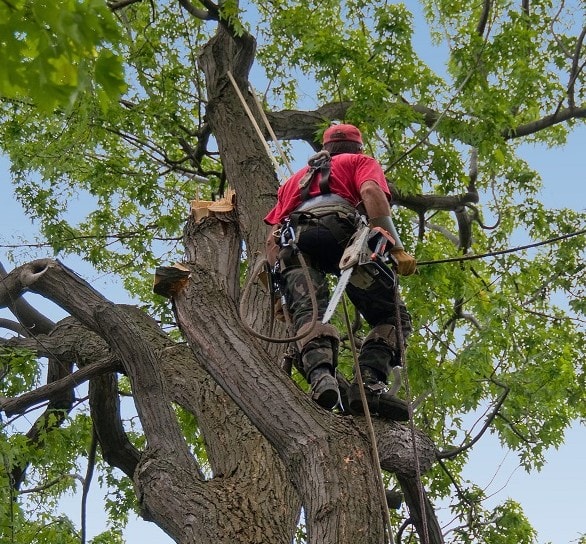 Mike's Tree Removal Service LLC of Brandywine & Acquasco, Maryland
When you need an arborist, we are just a call away. For all of your trimming, pruning, and removal needs, call Mike's Tree Removal Service!
100% Customer Satisfaction
Open 24 / 7
Tree Trimming & Pruning
Emergency Tree Removal
Available in Southern Maryland
(240) 466-4533
Licensed Arborist in the State of Maryland
Our company is local and knows the trees that grow in Maryland. We understand the climate and know what is good for the deciduous and evergreens native to the area. A tree is a long term investment in your landscape and you want them to be at their vibrant best. When you call us, we make sure that the trees you have in your yard are disease-free and healthy. We can also check out your trees and make sure they are ready for the growing season ahead, or the dormant season if winter is coming.
Nothing enhances property value like curb appeal. And what could enhance your curb appeal more than beautiful healthy trees? Have our arborist come out and take a look at your landscape and make sure that your trees are as healthy as they can be. Making your home look inviting is what healthy, growing trees can do for your landscape.
Mike's Tree Removal Service loves the work we do, and we show it. We take care of the trees, whether trimming, pruning or removing them. We want to keep you and your family safe. We are dependable and conscientious in our service to you, our customer. We do our best to make you satisfied with the job we do for you. From the time you call us to the time we clean up, we make sure you will be thoroughly pleased with our work for you.
When you are comparing tree services, we know you have a choice. That is why we make sure we keep our customers 100% happy. We will make sure that you are delighted with the work we do, and we do it for less than the competition! We make sure we are 15% less than other arborists in Southern Maryland. We do our job because we enjoy it, and we are hoping that our attention to detail will show.
Tree Removal for Prince George's County
Brandywine, Waldorf, & Acquasco, MD
Our Southern Maryland area includes St Mary's County, Calvert County, Charles County, Anne Arundel County, and Prince George's County. That is a lot of territory, but that is also a lot of trees. We want to keep our customers assured of the health of the trees they do have. Also, our guarantee that we will take care of trees we need to remove. That is, mulching them so they can be used again for another purpose.
We are available 24 / 7 to help our customers in Southern Maryland. As you know, there is a heavy amount of tree cover in the area, and when storms hit our area, it can cause a serious amount of damage. Serious hurricanes, tropical storms, and winter storms have come through in the last few years, and we were there, taking care of our customers. We want you to call us to help take care of those trees that threaten your safety.
We take our responsibility seriously and want you to know that we are here during all sorts of bad weather, emergencies or any other issues regarding your trees. Making sure you, your family and your property are safe from damage, or potential damage is what we are all about. Our main jobs are to do emergency removal of trees, keep power lines clear and be available for our customers 24 hours a day, every day. Weather and nature don't take a day off and neither do we.
Taking Care of Our Customers
Damaged trees that have large branches that break and fall, that can be a hazard – but it can also ruin your lawn. Think about that tree that fell or the one that needs trimming that you have been meaning to get to for a few months… if this is on your to-do list, let us get it done!
Large branches or even trees that have dropped- they attract insects to break down the wood. During the warmer months, that can be unwanted insects (like termites). Getting fallen tree debris out of the way or mulched can not only keep your yard looking well-kept but free of damaging insects and pests. It is certainly easier to mow around!
Once in a while, it isn't only your landscape that is the problem. If a tree from your yard falls on a neighbor's yard, then there can be cost issues involved. After you call your insurance agent, call us to remove the tree in the safest and least impactful manner for all involved.
If taking care of your yard is on your honey-do list, let us take some of the burden off you. All those trees that need maintenance, let us take care of the heavy work for you, so you can do other things.
Tree Trimming & Pruning
We know that sometimes all that is needed is some trimming and pruning to make your tree become refreshed and grow like it is supposed to. Sometimes there are broken branches from storms that need cleaning up. During the early spring or late fall when you are getting your yard ready for the season, trimming and pruning your trees give your whole landscape a refresh that it needs.
Some trees can be diseased for a while before it is evident in the leaves and branches. As a surgeon, pruning or trimming may be enough to restore your tree to good health. Sometimes we may have to remove the tree. We can advise you on the best replacement for your landscape and area.
Trees that have branches that overhang your roof can let in critters, bugs and drop leaves into your gutters. For example, squirrels can drop onto your roof and go into your attic causing issues with insulation. After some time that could end up being some costly repairs, when all that was needed was to keep the branches from overhanging the roof. Insects like termites and carpenter ants can also crawl onto your roof if there is a branch or leaves that touch your roof. The industriousness of those insects are known, and your home can pay the price.
Caring For Your Home
Gutters do the important job of directing water away from your home and foundation. Water can do an enormous amount of damage in as little as one year if left unattended. If trees grow large branches over the roof and cover the gutters, they will shed leaves right into those gutters and clog them up. This will happen a little all year, but mostly in fall. When the gutters are clogged, they can't divert the water to the downspouts and away from the home. Instead, the water will drip straight down off the roof and collect on the foundation of the building. Eventually, it will find its way in.
Now you are starting to look at your yard a little differently, aren't you? In a way, you have to think of your home as a fortress and build your defenses in the best way possible to keep it free from damage and invasion. Like an army, insects look for food. Like a good family, animals look for ways to keep safe, and sometimes your home looks better than their home. Think of trees like a bridge for animals and insects… and sometimes water, to penetrate the defenses your home already has. You have a roof, walls, and insulation. Keeping the trees managed with proper trimming and pruning will keep the bridge up so they can't cross.
Doing the Job Right
Trees need trimming and pruning for several reasons. One, to keep away from your home. Two, sometimes branches become diseased or die and need to be cut off to keep the rest of the tree healthy. Three, correctly trimming or pruning a tree can extend its life. Some people want trees trimmed for reasons not related to the health of the tree, but for aesthetics. Sometimes they are trying to cut the tree's branches away from power lines. There are many reasons for trimming or pruning, but doing it the wrong way can be more trouble in the long run. Cutting too close to the trunk or branch and not leaving a collar can leave the tree weak and eventually split the trunk or possibly kill the tree. Having an arborist do it for you guarantees that the job will be done right.
Mike's Tree Removal will make sure that we don't take out a healthy tree unless there is no other recourse. Trees are slow growers. That is their nature. When looking at a tree, we are thinking years, instead of flowers, where it is a season. So when someone cuts a lot of limbs for a "look" or wants their lawn to grow and prunes all the lower branches, the tree may go into shock and die. Depending on your needs, we can find a solution. Maybe a different tree to fit your particular yard would be better. In any case, let us do the work for you. We have the tools and the experience with the native trees and climate.
Dangerous High-Risk Tree Removals
Not all broken trees are easy to clear out. Some require skill and experience to remove safely. At Mike's Tree Removal Service we know how to take out the trees that can threaten you, your family, your home or other possessions. During the removal process, we will make sure that you and your family are protected and secure.
Especially after a storm, any time of the year, or just a severely windy day, tree branches or entire trees can fall and cause a dangerous situation. With a tap on your cell phone (after you call 911 if you need them!) call us to help you get back to normal. We care about our neighbors and want them all to be safe, which is why we do what we do.
If there is a situation that looks risky in any way, please call the professionals at Mike's Tree Removal Service. We will take precautions and clear away obstructions or dangerous conditions for you. Preventing injury to you or your loved ones is of paramount concern.
If there is a tree getting ready to topple, sitting on a utility wire, leaning on another tree and ready to fall or if there is a situation where a careful extraction is necessary, contact Mike's Tree Removal Service and we will take care the situation as quickly and attentively as possible. Our arborists will be meticulous about removing the tree and cleaning up the debris. We pride ourselves on keeping our customers 100% happy with our service.
Storm Damage Restoration
Heading into the Hurricane Season? Keep our number handy for all the regular storms that blow through our area during the warmer months. At times, some trees or large branches fall, do damage or block access and need removal. Mike's Tree Removal Service will be more than happy to help the safest way possible. We have skilled arborists who can assess the damage and clean up with the least amount of disturbance to you.
Heading into the Winter Season? Keep our website accessible for over-saturated ground that can make trees lose their footing and fall. Ice and snow can be dangerous on a tree, and we can help with removing branches over your home or walkways. Even though our winters don't seem as severe as they used to be, we are still getting over soaked ground that can make younger or unestablished trees fall over.
In any season, trees need care just like your lawn does. Tending to the trees you do have can help them weather whatever the climate is doing. Keeping your yard well-tended doesn't need to take your entire weekend. And if you don't happen to have the proper tools to trim, prune or remove a tree that has died, don't worry! We can take care of all your tree needs easily and effectively with a contact on this page or a phone call. Since we are available 24 / 7 if you are getting home late, you can still call.
Utility Line Cleanup
After any large storm of any type, there is sometimes a need for utility line cleanup and we can handle the trees safely. Mature trees can take down lines and make it very dangerous to cross. Sometimes they can obstruct roads or driveways. In whatever the case, do not risk your own safety, call in the experienced team at Mike's Tree Removal Service and we will handle the impediment for you.
Some large mature trees can just grow around utility lines and rub it through. This can cause flickering in your home. You may need to call the utility company and let them know that this is going on. If you see trees leaning or rubbing on lines, you can call us to help out. Those are very dangerous situations and you should not approach the tree at all. Take a picture and send it to the utility company – and you can call us.
Just keep in mind, anytime that there is a tree and any type of utility line involved, it is better to call than to try to solve the issue yourself. If this is a real emergency (like you are trapped, call 911). Please do not touch the trees or the power lines or the poles that they are attached to, all of them can be charged with a great deal of current. To deal with any of these situations, please call us, and call the utility company to let them know where the break or damage is.
Brandywine, MD
As a local business, we're proud to call Brandywine home. And we love taking care of the trees in our community. So if you need trimming, pruning, utility line cleanup, or a tree removal service in Brandywine MD, we'd be happy to help!
Mike's Tree Removal Service is ALWAYS Available
If you have a tree that dropped where it is dangerous, if you have branches hanging over your roof, if you have an older tree with branches rubbing on the utility lines, or some other reason that you need a skilled, experienced arborist, contact Mike's Tree Removal Service. We will be there when you need us. We are dependable and love to make our customers happy.
(240) 466-4533
17274 Creekside Dr. Brandywine, MD 20613